editor's note
All these wonderful letters were sent to me without me even asking!
Read what my clients are saying..........
---
Nate
My wife and I have moved three times with the help of Leona and Bob, and we can recommend them without reservation. We became loyal to them several years ago after Leona showed us apartment listings when few other realtors would. When we decided to buy our first house, we remembered her enthusiastic willingness to help us the year before, as well as her deep knowledge of housing-related issues and the Philly area. Two houses later, we have learned to admire the two of them for their tirelessness, patience, intellect, concern and integrity. When the day comes that we decide to list our current house, we will definitely turn to Leona and Bob again, because we know that they have our best interests at heart and will do whatever it takes to close a good deal.


Hope you're doing well and that you can work with this. Keep in touch.

Nate and Wendi Marx

---
Asheley and Jason
Leona,
Thank you again for everything! Even though we are not totally unpacked, we have put your blanket on the couch in out TV room and it's perfectly cozy! We are all moved in, but of course there are lots of boxes and bags to be unpacked, thank God for al of that storage space! We love it, and are so happy there already . We can't thank you enough for all of your help, you really went above and beyond and we are very grateful. Of Course, we will be spreading your name far and wide, and if and when we are ready to leave Williamsburg you will be our first phone call! Good Luck with whatever you, have moved on to already, I'm sure you are eternally busy (but that's a good thing, right?) Keep in touch, and thank you again, a million times over! :)
Your friends, Asheley and Jason
---
Manisha & Ashish Desai
How we met Leona…

I was at Brandywine Hospital for my externship and Leona came as a patient. We started to talk that I had just moved to PA and looking for house. Leona was God sent.

Ashish, my husband and I were first time homebuyers. We did not know anything and we were cold feet thinking about the whole buying process. Leona was very kind, we could call anytime of the day and she was glad to answer our questions. She would always call us back if she was unavailable when we called.


Had heard stories about the whole buying process form getting mortgage approved to closing, but Leona had made whole process fun and smooth. She felt like part of the family, just the calm and supporting. Bob and Leona came to the walk through inspections with the builder.

Leona was very respectful of our culture and beliefs. Bob and Leona came to our ground worshiping ceremony. They represented our elders since none of our parents could make it. We felt lucky and blessed. The whole process was taken care of. Ashish was not stressed too much. Leona handled everything.

Her relationship with us did not end after closing of our house. She gave us a nice house-warming gift and sends us hand-written personal notes all the time. We feel so great that she keeps in touch. She still keeps in touch and invites us to all the parties. She made us feel very special and still does the same. W e made a friend for life.

We were very lucky to have Leona as our realtor. I would recommend her to anyone. And, if we buy any other real estate in future, we would not think of any other better person to go to than Leona.

We strongly recommend them….




---
Bob and Karen Cichewicz



I just wanted to formally thank you for all of your assistance during the recent sale of our home and subsequent purchase of our new home. My family and I are delighted with our new house and have settled into our new surroundings nicely. As a sales professional myself, I demand a very high-level of service from those I choose to do business with. You came highly recommended and did not fail to provide me with exceptional service and attention to detail. It was very reassuring knowing you were handling many of the details and you never failed to keep me up to date on whatever was happening throughout the entire process. Your recommendations for needed services(i.e. termite, radon and home inspection, etc.) were also excellent. Thank you once again for making our move a very pleasant experience. I do not plan on moving again in the near future, however, I will certainly and confidently refer you to anyone I may come in contact with who is considering the purchase of a new home.

Bob and Karen Cichewicz

---
Mike and Lisa Angioli
Dear Leona, Mike and I would like to take the time to thank you once again for making the "selling process" such a pleasure! We expected it to be so complicated, but your professionalism (and warm personality too!) really came through. It was great relying on you and being well informed throughout - helped make all the decisions easier too! Once again, you were a pleasure to work with and we thank you!

---
Pam Kelly

It has been a pleasure to work with such a reliable, creative and sucessful REALTOR. Leona Mendenhall excemplifies integrity, professionalism and always puts her client first

---
Barbara and John
Dear Leona, Thank you for all your help in finding us our new home. Your professionalism, courtesy and good humor were very much appreciated. We will certainly keep you in mind for future needs and for referrals.
---
Mark J. Blair
Dear Leona, Thanks so much for all your work and efforts in both our purchase of the Stroh property and the sale of 1003 Stirling Street house. Your expertise and knowledge made the process go so well, though not necessarily easy, so for that, Thanks!!! As it could not have happened this soon. Do know that I will highly recommend you to anyone who is buying or selling. Have a great weekend...

---
Jen and Joe
Leona, Joe and I wanted to say thank you for your patience and kindness! There were many car rides and phone calls and disappointments. You became more than a "REALTOR". I feel like you are part of the our family. Take care and stay well. we wish you all the best. Have a great New Year with your family and stay in touch!
---
Karen & Jack
Dear Leona, We can not believe that it has already been a month that we have been in our "new" house. We wanted to take the time to let you know how much we appreciated all your advice, guidance and help during our search for the perfect home. We were very fortunate to have found someone who was willing to spend the time to explain things to us and take the time to listen to our questions and requirements of our future home. With the schedules that Jack and I have that you took the time to sift through all of the listings and to pick out just that met our stipulations (unique as they were) or you felt might interest us was an immeasurable benefit in and of its self. You were always there, just a phone call or page away, even if you were on vacation or out visiting that new grandbaby of yours. We always knew you would have the answer or you would have the answer or you would find the answer for us, plus you were a cheerleader while we were saving money (giving us tips on places to go that were free and fun). This letter only begins to express our graitiude for everything you did, words will never be enough. Please feel free to stop by anytime, you and your husband are always invited. We do plan on having a fall celebration after we return from Napa, we will let you know when, you already know where.

Karen and Jack Kuhn
---
Bill Bower & Patricia Donohue-Winter 2012
Dear Leona,
I'd like to thank you and Robyn Landean for all your hard work representing both me and the seller throughout this transaction. You are both true professionals, and were always available, very knowledgeable and most of all able to navigate us thru the mortgage process. We truly feel fortunate having you both as our Real Estate Team.
Thank you,
Pat Donohue
Bill Bower
---
Amy Rine-April 24, 2012
Thank you, Leona, for doing such an incredible job of selling my house in
 Morgantown, PA! You gave me sound, direct advice and guided me through a
 process that I dreaded. It was obvious that you were working diligently to
 find the right buyer and get us to closing quickly and painlessly. It was
 nice to have updates and communications from you and Robyn along the way -
 can't thank you all enough. Would recommend you highly to anyone looking
 for an excellent agent to represent them!  Thanks Again, Amy Rine
 
 
---
Kyle Latshaw-February 29, 2012
What a joy to work with! We hired her to sell a house our Mother had lived in for nearly 50 years. Although the house was dated, Mom treated it with lots of TLC. Leona saw it for what it was and diligently searched for the "right" buyer. We found that buyer and were able to close the sale within 3 months of listing.
 
 Leona was professional, sensitive and even counsellor throughout the process. She knows the market, the area and also has a wealth of resources for inspectors, repairmen, etc. at her fingertips.
 
 This is the realtor to choose; you'll be happy!
 
 Soon,
 Kyle
---
Bill Bower & Pat Donohue
Dear Leona,


I'd like to thank Robyn Landean for all her very hard work representing both Bill and I. She is a true professional, she was always available, very knowledgable and most of all able to navigate the mortgage process. We truly feel fortunate having her as our real estate agent. She is a asset to your organization.

Thank you,
Bill Bower & Patricia Donohue

---
Nicole & Craig McGovern
I used the Mendenhall group as my agent for both selling my previous home
and buying my new one. I found them to be extremely responsive and
knowledgeable about the market. They were able to use social media to help
market my home, and make the process of both selling and purchasing more
streamlined. Most of all I appreciate the way they were able to calm me
down, and take my worries into account!
---
Rob Schnure
Keller Williams was very supportive during the home buying process. It was my first time buying a house and Leona was always available to answer any questions that I had. Keller Williams made buying my first house a great experience.
---
John & Gail Raudenbush
Our relocation from Indiana to Pennsylvania was definitely made easier
because of the professionalism and dedication of the Mendenhall Group.
Leona and Robyn carefully listened to the criteria we had set forth for our
new home, and they successfully found us just the right place.  Their
ongoing assistance, as we settled into this new area, was invaluable.  -
John and Gail Raudenbush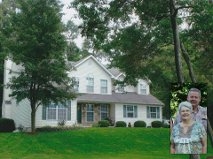 ---
Paul & Maryann
Dear Leona,

Paul and I would like to "thank you" kindly for all your help in purchasing our little home in Saltillo. It was very much appreciated. The settlement was quick and easy as you said it would happen. We will never forget all your hard work. Wishing you a happy new year!

Thanks again, Sincerely, Paul and Maryann